The Log Cabin / Delaney House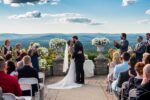 We have a few incredible venues to choose from that all offer something a bit different.
The Log Cabin is on top of a mountain with incredible views. It has an outdoor ceremony site, an outdoor terrace for cocktail hour and a ballroom for dinner and dancing.
The Upper Vista is at the top of the property of the Log Cabin, and is a stand alone 40 x 80 tented reception space. A venue with in a venue. We offer an outdoor area for the ceremony and a reception under our stunning tent complete with bistro lights and a romantic liner. The Upper Vista has the most incredible views of the mountains and can accommodate up to 160 guests.
The Delaney House is our historic venue located about 10 minutes away that is also next to our boutique hotel the D.Hotel and Suites. The Delaney House has a gorgeous ballroom complete with crystal chandeliers, an outdoor ceremony at the garden and a courtyard with bistro lights and fire pits for cocktail hour. The Delaney House can accommodate up to 200 guests and is a very convenient location with hotel accommodations right next door.
We have a number of dates available to you next year. Are you looking for dates in 2020 or 2021? Wedding pricing at The Log Cabin begins at $65 per person for Friday and Sundays, and $79 per person on Saturday, while pricing at The Delaney House starts at $55 per person. This would include hors d'oeuvres for the social hour, wine at the table or a champagne toast, a three or four course dinner, a custom wedding cake, a coffee station, house centerpiece, linens, and much more! You can view all our menus by visiting our website here.
Send Message to listing owner